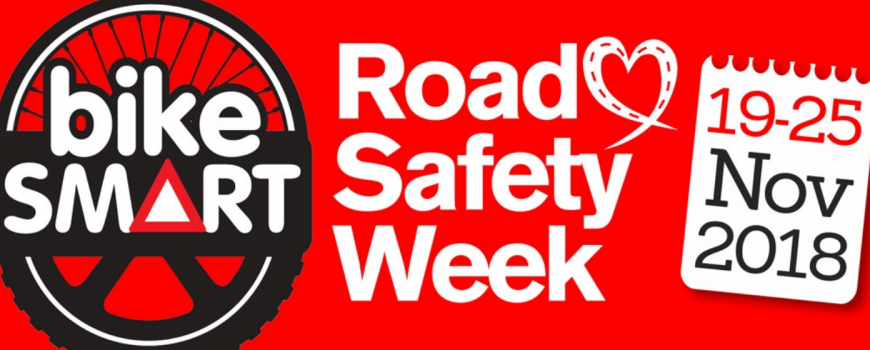 Road Safety Awareness Week: Bike Smart
Road Safety Awareness Week (19th – 25th November) is the UK's biggest road safety event, coordinated by the road safety charity, Brake.  Last year the theme was 'Speed Down Save Lives' and in our blog we discussed the startling facts behind the campaign.
With more than a third of cyclists and motorcyclists killed or seriously injured on UK roads, Brake have selected the 'Bike Smart' campaign to help raise awareness. The charity will be shouting about the safety of road users on two wheels and they have put together some facts on why their theme is so important:
In 2016 there were 18,477 cyclist casualties and 19,297 motorcyclist casualties
More people are cycling so there is a greater need to protect them with a safe systems approach
Motorcyclists are 38 times more likely to be killed in a crash than car occupants per mile ridden
Motorcyclists comprise the largest proportion (25%) of road crash admissions to trauma centres
It goes without saying that cyclists and motorcyclists are the most vulnerable road users and with 100 riders injured every day in the UK, Brake feel this is an area of road safety that needs attention – we couldn't agree more.
Cycling is becoming more and more popular as it's the most environmentally-friendly form of transport.  But as more and more cyclists take to the road, it's important to be aware of them.
Motorcyclists can travel at similar speeds to cars, however they don't have equal protection to that of a vehicle in the case of a crash.  There are no air bags or any safety measures in place, leaving them exposed to the full force of an accident.  Awareness is crucial for making changes and saving lives in the UK. The campaign is not only calling on vehicle users to be aware but also for cyclists and motorcyclists to be Bike Smart themselves through safe riding behaviours and appropriate training and/or equipment.  If everyone works together, positive change can happen and the statistics for bike accidents on UK roads can be dramatically reduced.
Absolutely anyone can get involved with Road Safety Awareness week, from making a donation to even tweeting about it using the hashtags '#bikesmart' or '#roadsafetyweek'.  No matter the form of contribution, you're still raising awareness.
Here at Drivers Direct, we admire the work that Brake do every year.  Road safety is important to us and that's why we ensure that all of our drivers receive the appropriate training.